This beautiful, handcrafted breadbox can fit many loaf's of bread or buns. It measures approx. 20 1/2" wide x 11 1/4" deep x 12" high. This one comes as a hardwood of Walnut and has a clear, waterbased, satin finish on it. We make these to order so be aware the colors and patterns in the wood are a natural occurrence and will vary from item to item.

Note: This item only ships within the 48 Continental United States. If you would like it to any other areas, please contact me first for shipping as it is very high. Also note this item is customer built to order and usually ships within 2-3 weeks from time of order. Thanks.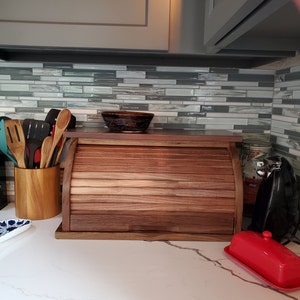 Roxy Morelock on Jul 6, 2021 5 out of 5 stars
Today I received the breadbox...it is ABSOLUTELY GORGEOUS...the craftsmanship is incredible.... The seller communicated with me through the whole process....and she delivered a beautiful addition to my home. I will definitely purchase from her again and will promote her to my friends and family.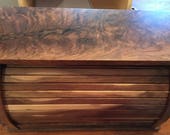 Vickie on May 18, 2021 5 out of 5 stars
I cannot begin to say how pleased I am with this Bread box..it is so well made and stands out in my kitchen as a beautiful addition.
Christa on May 8, 2021 5 out of 5 stars
The walnut breadbox is absolutely gorgeous. Definitely worth the wait. ❤️ Thank you so much.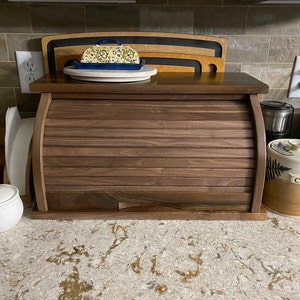 Kristin on Apr 20, 2021 5 out of 5 stars
It's beautiful
podm8z on Jan 25, 2021 5 out of 5 stars
The breadbox is just as pictured. Beautiful!
Amazing craftsmanship and attention to detail. Great communication and five star seller. Highly recommended and would gladly do more business with Johnna again. A classic and beautiful addition to out home that will last for generations.
myrottndog on Feb 6, 2021 5 out of 5 stars
Anja on Dec 9, 2020 5 out of 5 stars
Johanna was incredibly good at communicating, and the box came incredibly well wrapped and secure! One small thing, it felt as if the entire box could perhaps been sanded one more time with a finer grit, as the entire thing is a bit rough to the touch, and some of the slats definitely still had the rough cuts from milling on them. However, for the price point and that it's made from solid wood, I am incredibly satisfied with the purchase!
Timothy on Nov 17, 2020 5 out of 5 stars