This beautiful bread box is oversized to fit many loafs of bread and/or buns. It is made up of clear pine or Alder (depending on availability of material) painted and with a satin, waterbased finish. Also note monitor difference may mean that color variations are slightly different then what you see on your monitor. The approx measurements are 20 1/2" x 11 1/4" x 12" tall. It has a roll top type door and is very versatile. Enjoy. . .
I bought this to be an appliance garage - to hide my toaster on the counter. It is beautiful! Very well made, But I must have mis-measured as I have to turn the toaster sideways to close the door. Guess now I will buy a toaster that is supposed to sit sideways :o) Communication with Johnna was excellent! She was very quick to respond and very willing to modify my purchase for my purposes. The ONLY reason I am giving 4 stars instead of 5 is because I ordered this in January and just now received it in April. Etsy is definitely not Amazon.com with 2-day delivery but the quality and the customization made the wait worth it. Thank you!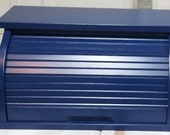 Bobbie on Apr 29, 2021 5 out of 5 stars
I cannot emphasize enough how lovely this bread box is! I ordered it in blue, and was a little nervous that the shade of blue might not work in my kitchen, but even the color was perfect! Thank you for creating what is clearly of work of love.....
Sandra on Dec 16, 2020 5 out of 5 stars